Yantai Fangda Rotational Molding Co., Ltd
Company Introduction
Yantai Fangda Rotational Molding Co., Ltd. Locates in Yantai, which is the Charming Chinese City , and it was established on 2002. After few years effort Our company is strengthening constantly on the scale, and now we have a factory floor of 30000 M2 that was built and put into service ,which located in No.21, Weisi Road ,APEC Industry Zone, Laishan district,Yantai,Shandong, China. Our company is specialized in the business of producing and developing plastic rotomolding machine, plastic rotomolding molds and plastic rotomolding products. We have joined in the Association of Rotational Molders China in 2005, and then to become a member of the Association of Rotational Molders Internationalin in 2006. Our Company reserves some excellent engineers in the industry, provideing equipment design ¡¢molding design ,and we also provideing production egineering for many kinds of Roto-products.Roto-equipment: Our Company closely following¨Cup the most advanced production and technological of the equipment in the world, and then assimilating and absorbing it to raise our product quality. Currently, the company products of Shuttle and Carousel Rotation Moulding Machine have been exporting to many countries, such as Australia¡¢Russia¡¢Indonesia and so on. In China, we produce many Omni-direction Roto-machine that are the most advanced equipment at home for dozens of enterprises ,which come from different backgrounds.
Rotomolding Equipment
Yantai Fangda Rotational molding Co., Ltd. introduce U.S.A. full-length plastics rotate the equipment production technology of shaping£¬Produce independent arm, two arm track type, three independent arm four location type of different specifications to rotate shaping roll person who mould and various kinds of specification wave shaping machine while being omni-directional worker. Omni-directional to rotate shaping moulding machine ¡¡¡¡Adopt closed high efficiency heat room , have noise circulation air blower , transfer to arm frequency conversion suit well the speed, Having no noise pollution-frely, the working environment is good, production efficiency is high, Products wall thick and even, can produce various kinds of specification plastic containers of different form, Good at and produce dysmorphism empty products of specially appearsing particularly. Shaping waving machine ¡¡¡¡What company produce wave shaping machine fine to swing stability, heavy load have , suitable for empty container in producing large-scale and make steel container, response lining of cauldron, pipeline,etc. mould antiseptic to punish.
Grinding Machine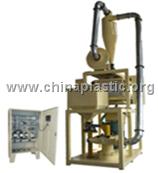 Grinding Machine Our company bring in the flat-type milling machine technology from USA to produce the special flat grinding machine. The machine grinds the particle ,which shape is prism,the mesh 35 ~ 60 heads, 70% for 35 ~ 45 heads; 30% to 45 ~ 60 heads. The small particles filling the gaps in the process of rotational moulding ,it is in favor of roto mold. The machine which model is FDM500,it grinds LLDPE and the production capacity is 200 kilograms per hour. the machine has four-parts including flat grinding, vibration sieve, dust catcher and electric control box.It is a cost-effective milling machine at present.